There are no signs of the white denim trend fading. However, white jeans are challenging to style and not all men have the knack to wear it well.
These expert tips will tell you exactly what to wear with white jeans and pull off this outfit piece with confidence.
What to wear with white jeans?
The main advantage of white jeans is that it can be used in both casual and semi-formal looks. By choosing the right shirt or T-shirt and footwear, you can make it work for different types of occasions. Here are some suggestions:
Shirts to wear with white jeans
Solid light-colored create a crisp and smart look with white jeans. This combination is perfect for semi-formal occasions. Slim-fit shirts are ideal if you do not like to tuck your shirt in.
Pastel-color shirts and white jeans are an amazing combination for summer. Evergreen colors that complement most skin tones are peach, rose, baby blue and mint green. Choose your shirts in breathable fabrics like cotton or linen and you are set to rock during the warmer months.
Most dark colored shirts also go well with white jeans. The stark contrast will create a dressy effect that is incredibly smart. Jewel tones like teal and emerald are perfect for festive occasions.
Image Credit – Styleoholic
You can also pair your white jeans with denim shirts for an incredibly smart, but casual look. Breathable blue shirts in the signature denim color also look smart. Simply fold up the sleeves and button it at elbow-length to look put-together at any social gathering.
Image Credit – Urban Man Outfits
The all-white head-to-toe look is a winner if you have the confidence to pull it off. This is the perfect look for summer.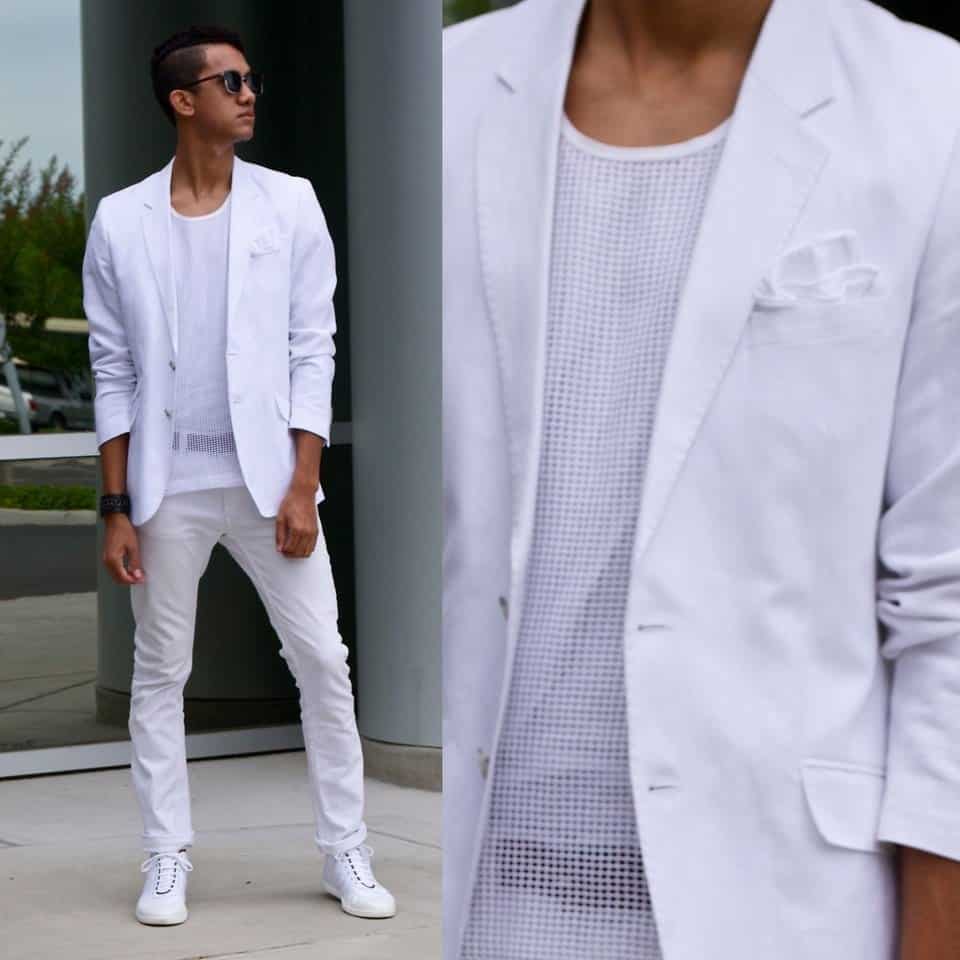 Image Credit: Outfit trends
Wear your white denim with a crisp linen or cotton shirt for a semi-formal look. Meanwhile, a white turtle-neck t-shirt, polo shirt or regular t-shirt will help you look cool.
Image Credit – Lifestyle By PS
When it comes to choosing T-shirts and casual shirts, keep the colors balanced. Choose solid, striped or printed tees in subtle colors for an edgy effect.
Image Credit – Styleoholic
The stark whiteness of denim also works amazingly well with bright prints and colors. Checks, lines and prints in flashy hues like orange and yellow will pop when paired with white denim. Choose these stunning combinations for glitzy social outings and when you must hit the dance floor.
Multi-Check Text Print Shirt by Koovs
Best jackets and outerwear to wear with white jeans
The clean and uncluttered look of white jeans is best complemented with neatly tailored, smart blazers. You can also wear them with blue denim jackets or sleeveless jackets for casual occasions.
Best footwear choice for white jeans
Loafers look very good when worn with white jeans, especially when the shirt is in a solid color. You can also wear white jeans with dress shoes or white sneakers for a smart and sophisticated effect.
Light Wash Slim Jeans by Koovs
For more fashion inspiration, and style tips keep visiting us at Shoprapy—the curated fashion collection for contemporary, stylish men.
Shop Stylish Jeans and Trousers at Shoprapy.