Leggings are a total game-changer! Whether it is for a chic modern outfit, as casual wear for work, or social outings, leggings always work. Not only are they comfortable, but they are also easy to mix and match.
Leggings come in different fabrics like cotton, lycra, and spandex. You can also find different lengths like mid-calf, knee-length, full-length, and ankle-length. The variety of choices gives you endless options to create fresh looks. So, you must have this type of bottom wear in your wardrobe.
Choose leggings from only the best leggings brands in India to ensure that they look good and last for years. Here is our round-up of the top brands in the market to make your choice.
1. Fab Alley Leggings
Side Lace Panel Leggings – Grey by Fab Alley
Fab Alley leggings are perfect as modern outfits due to their contemporary edge and polished look. The construction is sleek and snug, with design elements that make these leggings make a statement. They are available in a range of interesting fabric choices like suede and rayon. Each piece features fantastic details and has a neat finish. Look for side panels in sheer fabric and embellishments that add extra appeal. Fab Alley collection also includes various interesting twists to traditional legging styles like flared bottom styles that you may not find elsewhere. Other interesting details are mesh appliques, zippers, long stripes, prints, and button details on the sides.
2. Go Colors Leggings
Go Colors Women Coral Pink Solid Ankle-Length Leggings by Myntra
Go Colors is a premium leggings brand in India. The range of styles from this label includes ankle-length leggings, churidar leggings, and skinny fit leggings. The most notable factor about this brand is that their leggings have rich and vibrant colors. From unusual shades like khaki and gray to staples like white and black, they have it all. Go Colors also offers a wide range of options in every color family. So, whether you want turquoise or teal to pair with a top, you can find the exact color you need at Go Colors. Every piece is of stellar quality, and the colors are long-lasting.
3. Lyra Leggings
Image Source:  Ankle length legging from Lyra
Lyra leggings are from the iconic Lux brand. They are a favorite with fashionable women and are made from 95% cotton fabric with 5% spandex. The spandex makes them stretchable. These leggings are durable and withstand rough use. Hence, Lyra leggings are a must-have in every working woman's wardrobe. Mix and match them with Indian and western tops to enjoy a wide range of looks on a budget. Lyra combo will take your money further as the packs have attractive and unbeatable prices.
Apart from plain and printed leggings, Lyra also produces fantastic jeggings in solid colors. Their white jeggings area fashion favorite.
4. Melange by Lifestyle Leggings
Melange by Lifestyle Women Grey Solid Ankle-Length Leggings by Myntra
The Lifestyle group has a reputation as one of the best labels in the Indian fashion industry. Melange from Lifestyle is one of the best brands in India with a fabulous range of leggings for daily use and special occasions. The label produces both printed and solid leggings in various lengths like ankle-length, churidar, and calf length. The designs showcase excellent attention to detail and are super-comfortable. Whether you prefer funky prints for casual occasions or traditional churidar bottoms to pair with Kurtis, find the bottom wear of your choice in this collection.
5. Pinksky Leggings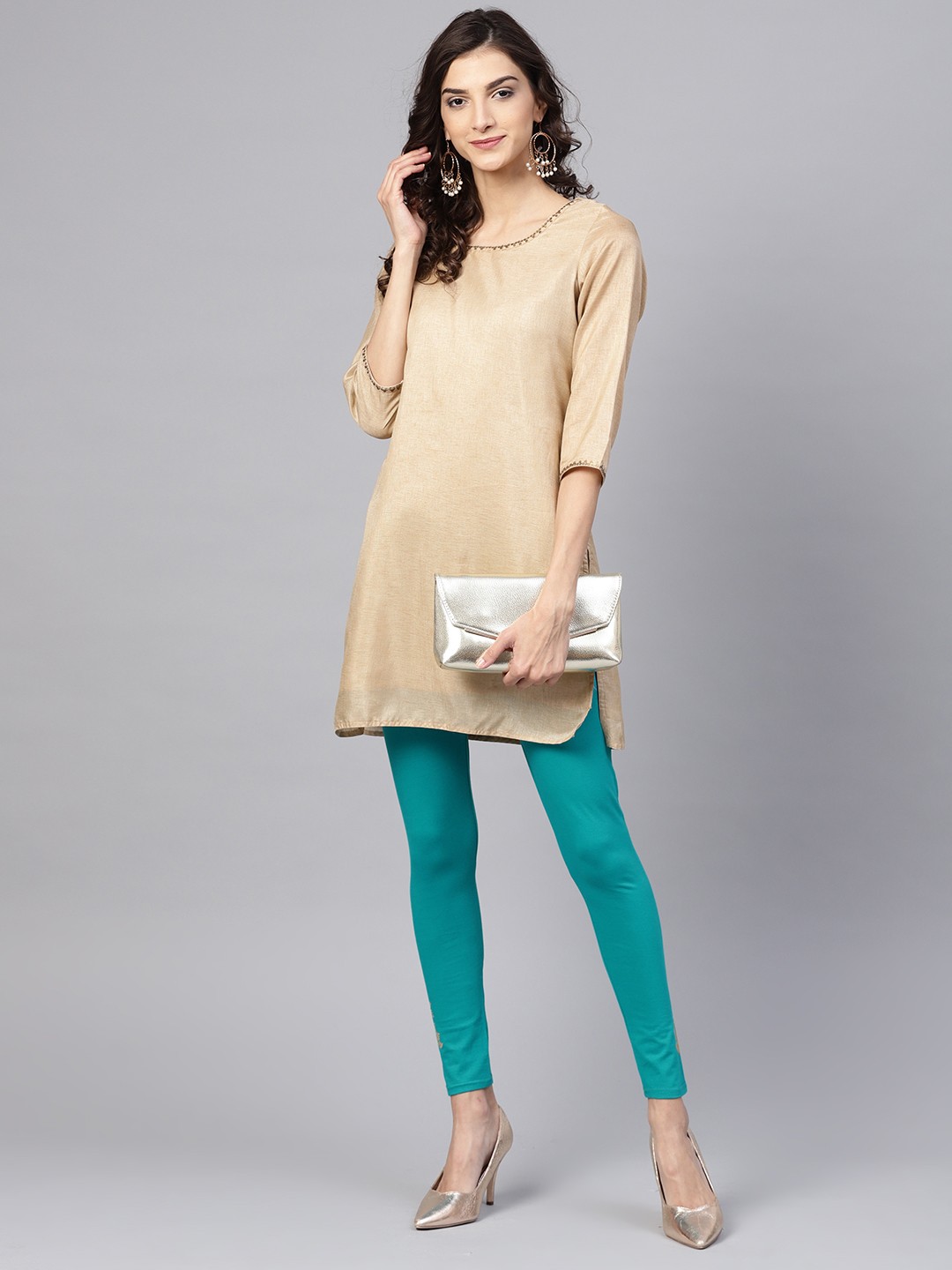 Women Teal Blue Foil Print Detail Ankle-Length Leggings by Myntra
Pinksky leggings are premium bottom wear designed for maximum comfort. Super comfortable elasticated waistbands and whimsical prints are the main features of this brand. Although you may be able to find leggings from other brands at lower prices, they are rarely as comfortable as Pinksky leggings. Pinksky leggings are made from high-quality soft cotton fabric. It stretches without wrinkling and perfectly defines the entire length of the leg. Draw attention to your long slender legs in Pinksky leggings with lovely metallic prints at the ankle and make a powerful style statement.
6. Kook N Keech Leggings
Kook N Keech Black & White Printed Leggings by Myntra
If your style is smart, modern, and funky, Kook N Keech leggings are guaranteed to impress you. This brand is defined by bold and flashy prints with a touch of whimsy. Guaranteed to be the signature element of your outfit, Kook N Keech leggings are the epitome of casual style. They are made of 100% viscose, and the fabric stretches to snugly fit your curves and highlight your figure. Pair these leggings with crop tops or fitted tunics to look your glamorous best.
7. Twin Birds Leggings
TWIN BIRDS Women Blue Solid Churidar-Length Leggings by Myntra
Solid color leggings from Twin Birds are a steal deal. This brand nails the perfect balance of quality and price point. The leggings are made from viscose rayon and are very comfortable. It has a comfortable fit that allows free movement but looks snug. Twin bird leggings are versatile choices that go well with modern and ethnic outfits. Choose Twin Birds leggings when you need functional bottom wear that is suitable for daily use.
8. H&M Leggings
H&M Women Black Cotton leggings by Myntra
Your Western wardrobe is incomplete without a pair of leggings from H&M. Their iconic designs are guaranteed to bring your youthful side alive. The leggings are practical and their sporty look makes them work as athleisure outfits. The dark colors and sleek finish are slimming. Explore the H&M range of leggings to discover unusual and unique prints like snakeskin as well as sculpted details that enhance your figure.
When it comes to leggings, there is something for everyone. So, it is no wonder that this versatile wardrobe piece is always trendy. It does not matter whether you are curvy or skinny, there are endless ways to style leggings to highlight your figure in the best possible way.
One thing is sure—you cannot have enough leggings. So, explore your options and add new dimensions to your look with this fashionable apparel item. Visit our legging collection at Shoprapy today to find the right choice for your budget and preference from the best legging brands in India.
Recommended Read – 6 Different Types Of Leggings Every Trendy Women Should Know!