Just as each sport and physical activity is unique, so is the supporting gear for it.Hence, using the same set of sneakers for running, badminton, and tennis is not a good idea. Different types of sports shoes have been designed for different types of physical activities. This variety of options makes it possible to find the right footwear for each activity.
Regardless of how frequently you indulge in the activity, wrong footwear can compromise your safety. Since the shoe decides the way your feet hit the ground, it affects your performance as well. By selecting the right shoe for a sport or activity, you can keep your feet healthy.
Read on to learn about the different types of sports shoes available. Equip yourself with this information to choose the right shoes for your need to improve your performance and avoid injury.
1. Running shoes
ADIDAS Men Black & White Remit Striped Running Shoes by Myntra
Do you start your day with an early morning jog? Or are you training for a marathon?
Jogging and running are activities where your feet pound on the ground. It strains the heel and the front of the feet. Your feet will need good cushioning in the heel and front area to handle the continuous strain.
Good running shoes are designed to support the front and back of the feet. By absorbing shock and supporting forward motion, they keep your feet safe.
2. Trail running shoes
ADIDAS Men Black Trail Rocker Mid-Top Trekking Shoes by Myntra
Regular running shoes cannot stand up to dirty and rocky surfaces. If you run off-the-road, the pressure on your feet will not be constant, and your shoe should cushion the impact effectively. You will need special running shoes to traverse these uneven terrains.
Trail running shoes have heavier soles than regular running shoes. They support the heel better and cushion sudden and abrupt movements. This feature will help you stay safe on unpredictable surfaces.
3. Walking shoes
U.S. Polo Assn. Men Navy Blue Textile Walking Shoes by Myntra
Walking applies pressure to the heel and ball of the foot. However, the front of the feet does not experience much movement. So, walkers need shoes that support the back of the feet. The shoe should also be flexible in these regions and allow easy movement.
Walking shoes are designed with these needs in mind. They have a rounded sole to support the ball of the foot. When the heel and ball areasare flexible, it makes treading easy. Meanwhile, the front will be rigid.
Walking shoes are generally not as bulky as running shoes. Choose light-weight walking shoes if you prefer brisk walking.
4. Trainers
Nike Men Black LEGEND ESSENTIAL Training Shoes by Myntra
Trainers are the best type of sports shoes for people who indulge in more than one sports activity. It has decent support in the forefoot. Meanwhile, it also allows comfortable side-to-side movement.
Good support in front of the feet makes it suitable for running. Meanwhile, you can also use trainers for tennis and similar sports where side-to-side movement is prominent.
5. Tennis shoes
Nike Men White COURT LITE 2 Tennis Shoes by Myntra
Choosing tennis shoes according to the type of court that you typically play on. For hard tennis courts, you will need shoes with a strong tread. Soft sole shoes work on soft courts.
In either case, tennis involves a lot of side-to-side movements and sudden forward movements.The ideal tennis shoe would be flexible to allow such movement.
However, it will also cushion the sides and front of the feet, which are the areas that experience maximum movement.
6. Basketball shoes
NIKE Fly.by Mid Lace-Up Basketball Shoes by Ajio
Basketball is a sport that involves a lot of running and jumping. Shoes with a thick stiff sole and good stability will support the feet during such strenuous activity.
Sports shoes with high tops are the best choice. It will support the ankle area during jumps and contain shocks when you suddenly change the direction of movement.
7. Football or soccer cleats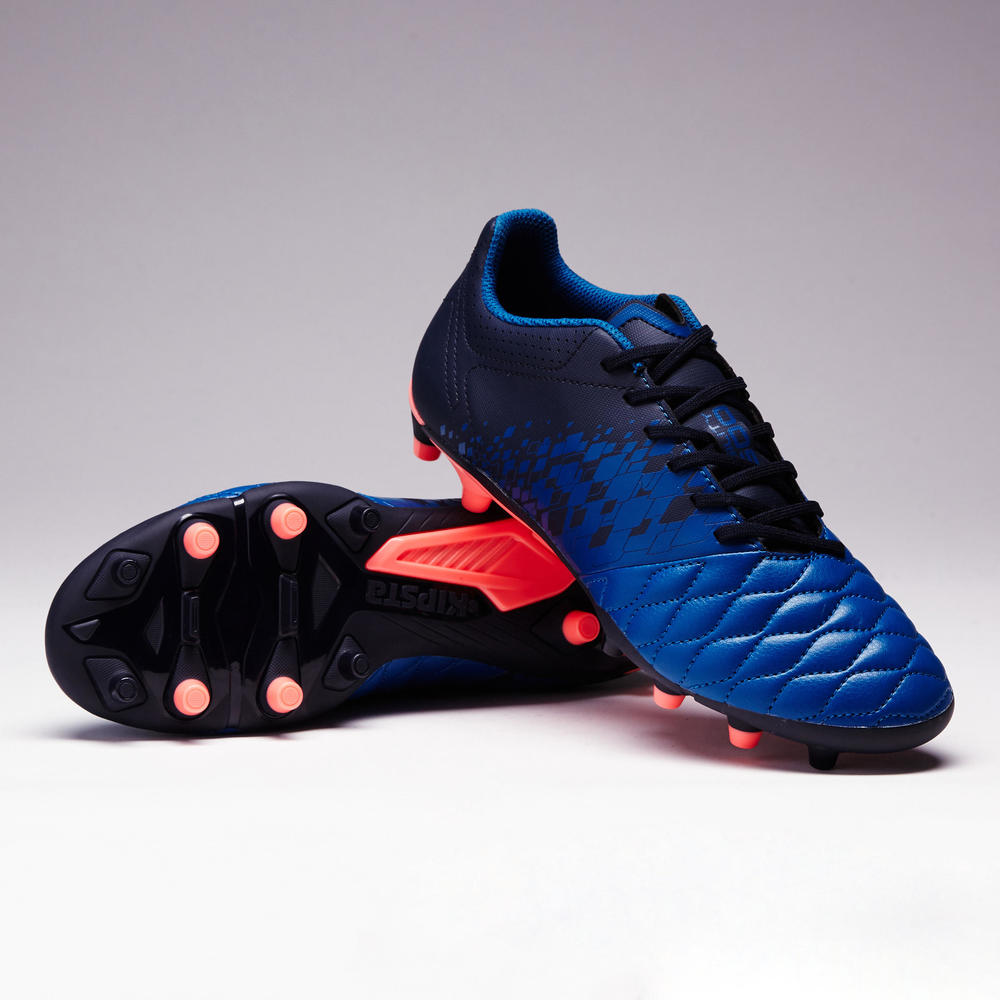 Women's Football Boots Agility 500 FG – Blue by Decalthon
Special soccer cleats are indispensable on the football or soccer ground. Since the field has soft grass or turf, it will not offer much traction. Shoes with spikes or studs will compensate for the smaller friction and help you maintain balance.
Soccer cleats fit should fit snugly. The spikes will not interfere with your kicking ability. However, since the cushioning is less in the toe area, you can feel the ball with your feet when wearing cleats.
8. Trekking shoes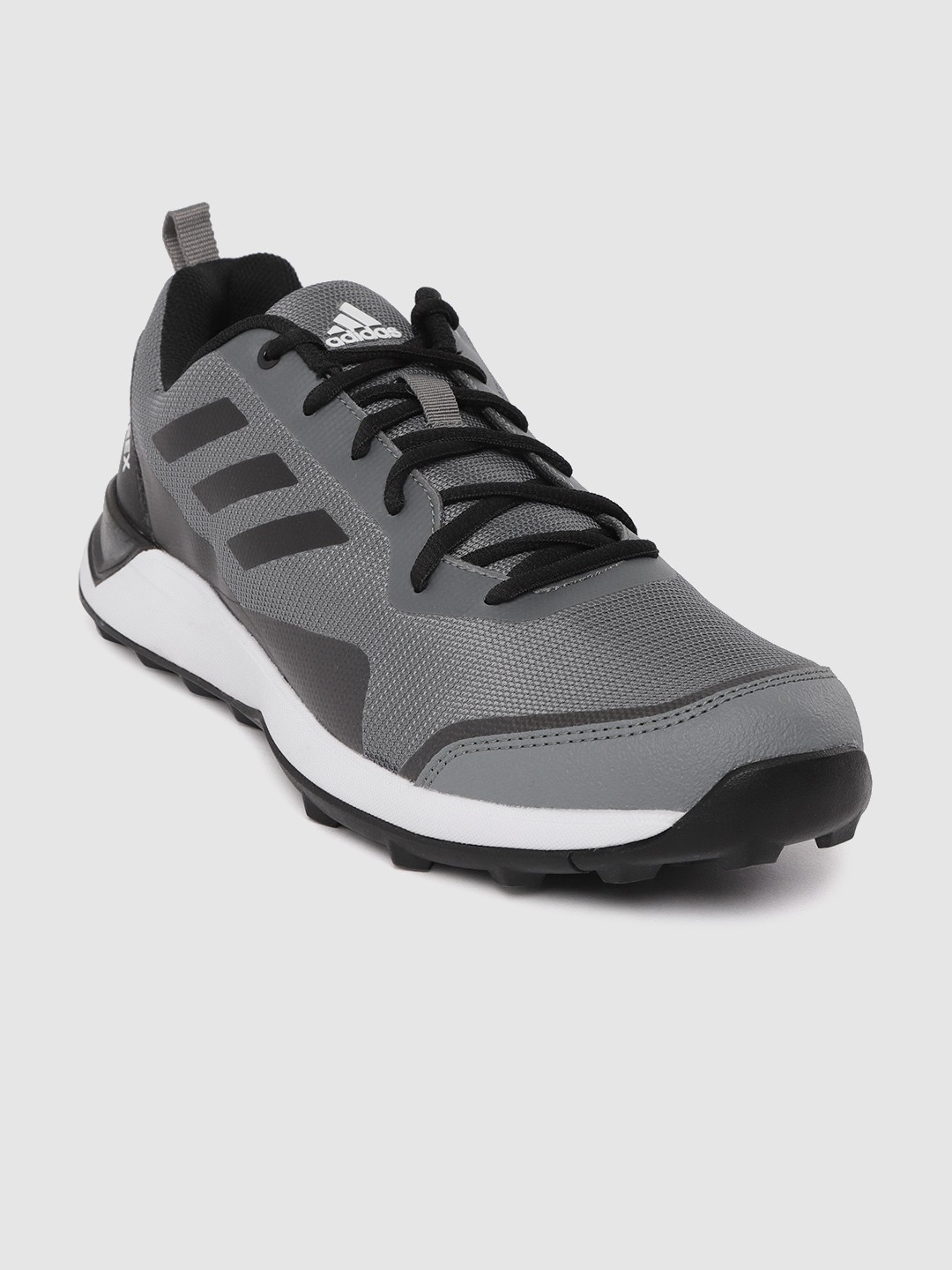 Men Adidas Charcoal Grey Andorian Trekking Shoes by Myntra
Trekking requires a lot of flexible movements, and your feet should have an excellent grip.The terrains involved are usually uneven. It may even be slippery and rough. So, trekking shoes should have inbuilt support to protect your feet during this off-the-road activity.
Trekking shoes also go by the name of hiking shoes. Good trekking shoes will uniformly support the entire feet. The ankle area is flexible but well-supported. These shoes allow side-to-side movements and support the foot during sudden jerks and forward movements.
Since trekking is an all-weather activity, waterproof and easy maintenance are also desirable features in trekking shoes.
9. Slip-on sneakers
Adidas Zelt 2.0 Slip-On Shoes from Koovs
Sports shoes were traditionally identified by their lace detail. However, contemporary designs also include comfortable slip-on styles. There are slip-on walking shoes, running shoes, trainers, and even tennis shoes. Apart from the aesthetic aspect, these are convenient to carry and are usually less bulky.
Although most slip-on shoes are designed for women, unisex varieties are also available. Ensure that the slip-on shoe you choose is designed for the specific sport or activity of your liking before you buy it.
The right type of footwear plays a crucial role in athletics and sports activities. Regardless of whether it is for health reasons or recreation, never overlook the importance of proper footwear for any physical activity.
Invest in the right type of sports shoes for your preferred activity and keep foot and ankle problems away. Not only will it make your feet feel comfortable,but it will also help you step up your performance.
Find every imaginable type of sports shoe for your favorite sport at Shoprapy. Visit our curated sports collection for men and women to satisfy your footwear needs and add more excitement to your leisure time.
Shop women's sport shoes collection here.