The saree is a traditional garment that never goes out of style. Nonetheless, we cannot say the same for its constant companion—the saree blouse. The time when everyone would wear tailored, perfectly-matching blouses is in the past. The latest fashion trend is to pair sarees with modern tops to create contemporary and fusion looks. And crop tops, being easily available and stylish, are the perfect choice to pair with sarees.
Revamp your wardrobe with modern crop tops for your saree collection and get on board with this modern trend. Here are some trending combinations to inspire you.
Plain crop top and printed sari
Image Credit: The Clothing Rental
Pair plain, solid-color crop tops with printed handloom sarees to look elegant and charming. When you match the color of the top to the print in the saree, the overall look will be cohesive. You can even achieve a variety of looks for a multi-colored handloom saree by pairing it with different colored crop tops.
Recommended Read – 5 Latest Color Trends In Sarees To Look Out For
Bell sleeve top with traditional print saree
Image Credit – Carma
Transform your conservative saree into a dramatic outfit by combining it with a bell-sleeve top. Bell sleeve tops have a straight cut from the shoulder till the elbow and flare out from the knee. Printed bell sleeve crop tops look good with traditional printed sarees like Ajrakh, Bandhini and Ikkat.
Halter-neck crop tops with Georgette sari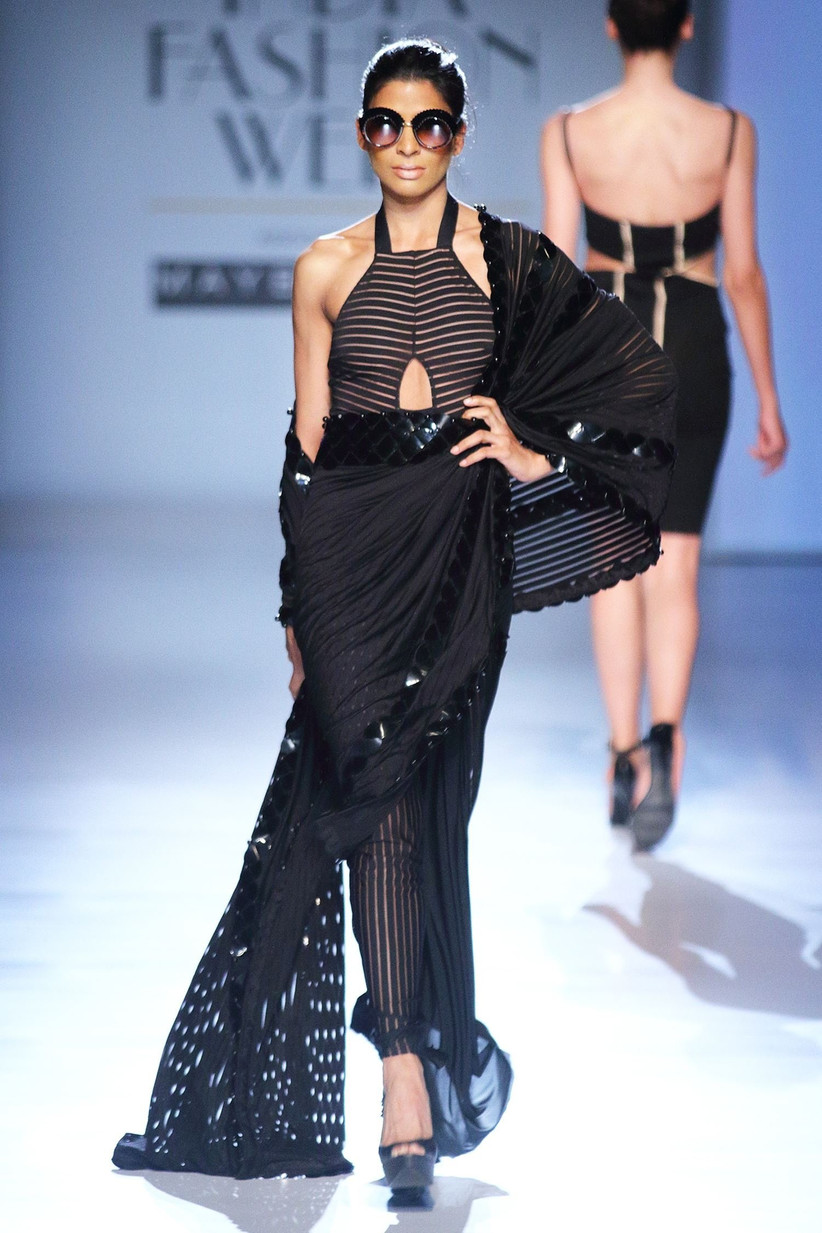 Image Credit –  Wedding Wire
Georgette sarees are a huge trend on the fashion scene, with celebrities and models sporting it all the time. Add contemporary charm to a classy georgette saree with a halter neck top. The high-neckline will add an urban touch and enhance your glam quotient instantly. Style it right by choosing a color that contrasts with that of the saree to create an interesting look.
Off-shoulder top 
Image Credit – Peeping Moon
Pull together a relaxed but fashion-forward look by pairing your saree with an off-shoulder crop top instead of the traditional blouse. Not only will this let you show-off your slender collar bones and shoulder, this outfit will be bold and glamorous. Try it out and you will be the star of the party!
Also Read – Top Saree Wearing Tips and Styles on How To Look Slim and Trim
Frilly top 
Image Credt : Bling Sparkle
Include at least one frilly crop top in your wardrobe and it will do wonders for your simplest sari. The frilly details will breathe new life into an otherwise boring look. This radically different combination will also take your whole look to another level. Don't forget to add a trendy silver or stone necklace to tie the entire look together.
Replacing the traditional blouse with modern tops is one of the most ingenious trends of recent times. Not only is the crop top a lazy substitute for the traditional blouses, it looks great too. Since there is no tailoring involved and the options are endless, it is certainly a practical choice as well.
So, don't let the lack of a blouse keep you back from draping your favorite saree. Mix and match your saree with tops to create stunning, statement outfits that will set you apart. Find the perfect sarees and crop tops for your fashion adventures at Shoprapy.
Shop our Saree Collection Here.
Recommended Read – 6 Different Styles of Saree Draping – Every Women Should Know!