Every fashionable woman has at least one pair of jeans. However, not everyone has a denim jacket in their wardrobe, which is a pity!
Denim or jean jackets are extremely functional accessories. They can help you achieve a variety of looks and are suitable for any weather.
You cannot go wrong with this functional piece on a breezy summer evening or as an additional layer under your winter coat. But this is just the beginning of your different options with denim jackets.
Get inspired and learn how to style denim jackets to create various looks with the following style suggestions.
Denim jacket as a shirt
Wear your jean jacket like a button-down shirt and make it stand out. Pair it with white jeans, skirts or regular trousers for casual sophistication. You can even wear your denim jacket with jeans of the same color to create the appearance of a jumpsuit. It will add a cool vibe and help you look young and smart.
H&M Women Blue Tie-belt Denim Jacket by Myntra
Layer over a dress
Wear a vibrant short dress with a denim jacket for a relaxed and laid back look. Distressed denim jackets will create a shabby chic finish that works for casual outings or visits to the beach. This combination is very practical for warm days. If it gets too hot, simply throw the jacket over your neck or tie it around the waist and continue to look cool.
Image Credit : The Teacher Diva
Recommended Read – How to choose the best dress for your body type?
Denim jacket with skater dresses
Take years off your look by pairing a light blue denim jacket and a sleek and modern skater dress. The loose fit of the jacket over the snug dress will make you look stylish and put together. If skater dresses are too short for your liking, add matching or neutral-colored legging to your outfit and you will be good to go.
Image Credit – A Southern Drawl
Indo-western denim jacket with kurti
For a fusion twist to your desi avatar, combine a denim jacket with your favorite kurti. Don't forget silver jewelry to add the finishing touch. This type of layering is good for the outdoors and you can carry it stylishly in both warm and cool weather.
Image Credit – Pinterest
Denim Jacket with maxi dress
Denim jackets over maxi dresses form stylish transition outfits when the weather is neither too cold nor yet warm. A classic, faded blue denim jacket is the best choice. It will go with any maxi dress color and style. You can also try a non-blue denim jacket that complements your maxi dress color.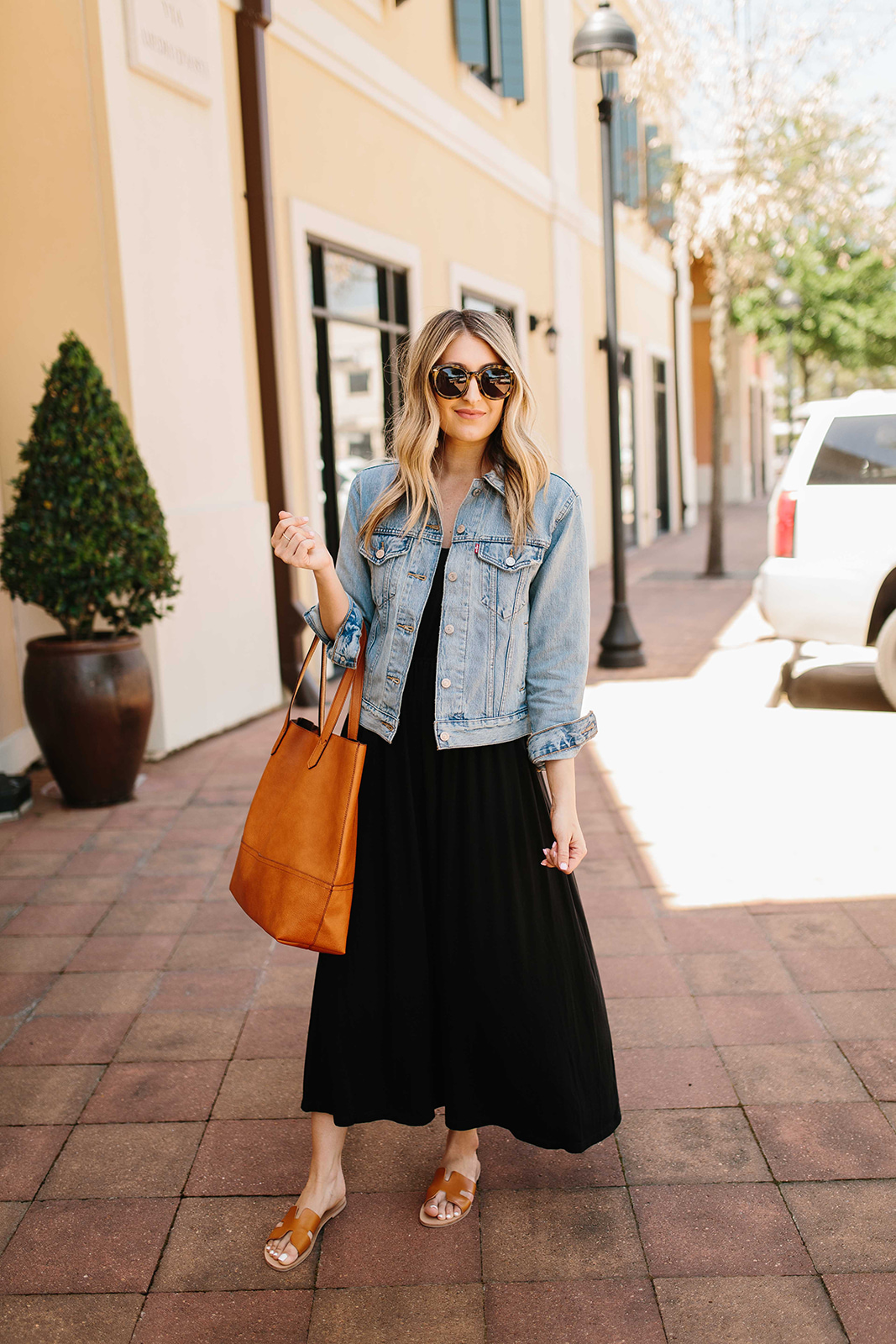 Image Credit – Wear & When
Recommended Read – Read this blog to know What Is A Maxi Dress & How to Wear it Right?
Denim jackets are not just protective outerwear. They are excellent fashion accessories at wallet-friendly prices. You can work them into various looks. Try experimenting with this powerful jacket as per our suggestions and you will never leave home again without it.
Find the perfect garment pieces to layer beneath your denim jacket from the curated collection at Shoprapy. From kurtas for your Indo-western look to skater dresses, sleeveless tops and maxi dresses for Western and fusion looks, we have it all.
Shop stylish jackets, dresses and kurtis on Shoprapy.