Kurtas and jeans are two iconic elements when it comes to casual fashion. Mix these two items and you have the perfect Indo-western combination that is both comfortable and stylish.
But here's the problem; although you can team up any kurta with any jeans, it need not always look good. You may end up looking like a fashion blunder! Avoid this mistake by learning how to wear kurta with jeans in the right way. Here are some proven ideas!
Classy meets contemporary
Slay the fusion look by pairing an ethnic kurta with an embroidered neckline and solid color jeggings. Throw in some oversize danglers and nude pumps. Loosely secure your hair and you will be the definition of cool sophistication.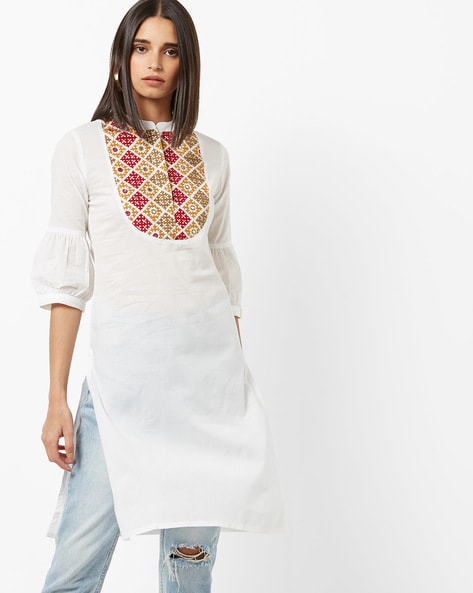 Embroidered Straight Kurta with Balloon Sleeves by Ajio
Long kurta with folded jeans
A long straight kurta over folded jeans can create an unforgettable look that draws attention to your eye for detail. Simply folding the cuff of your jeans will instantly elevate your style quotient and take the outfit to the next level. This combination blends feminine grace with ruggedness to deliver a modern, sassy look that is perfect for women of all ages. Complete your outfit with a pair of kitten heels to appear slender and smart.
Image Credit – Good Look Book by Cash Karo
Flared kurta with fitted jeans
Get noticed when you wear solid-color flared ruffle kurtas with fitted jeans. Keep it fun and funky by folding the cuff of your jeans. You can also add a scarf or stole for more visual appeal. Matching sneakers add the perfect finishing touch to this quirky combination.
Admyrin Red Chiffon Fancy Tunic
Muted kurta with jeans and bold accessories
Keep it simple but striking with a light color kurta in cotton, linen or other natural, breathable fabric. Wear it over classic blue jeans and choose a simple, elegant hairstyle to complete the serious look. Then add multi-colored danglers, bracelets and heels and jazz up your outfit in a unique and unexpected way. You will be unstoppable.
Jessica Green Cotton Kurti by Cilory
Rich detailing on regal kurta and rugged jeans
Flaunt your fashion sense with an Angrakha kurta with rich detailing in the neckline. Wear it over a traditional pair of jeans to create a rugged effect in the bottom half. Mix in statement accessories like matching earrings and shining shoes. Finally, pull your hair into a sleek bun and you will be the epitome of elegance and contemporary style.
Maryam Navy Blue & Aqua Embroidered Kurti by Cilory
Shirt-style kurta with jeans
Look prim and proper in a shirt-style kurta and relaxed-fit jeans. This mix-and-match combination will allow you to experiment with a variety of accessories like stoles and statement jewelry. Hence, you can create a range of looks with just two wardrobe items and a range of accessories. Plus, a stole or chunky necklace would elevate the simplicity of your outfit.
Cotton Bana Placket Detail Short Kurta by Fab India
Find the right pair of jeans as well as the best kurtas to go with it in our women's wear collection at Shoprapy. Every piece has been carefully chosen to appeal to contemporary taste, that you will be spoilt for choice! Check it out today.
Recommended Read – Top Tips for Choosing the Right Types of Jeans for You
We have some exciting news to share. Your favorite Shoprapy has been selected as one of the top 100 fashion blogs in India. We have been listed at position 31 and this is all because of your unconditional love and support. We would like to thank you again. You can see the entire list here – Feedspot's Top 100 Fashion Blogs